Meet Dr. Jeffrey M. Casiglia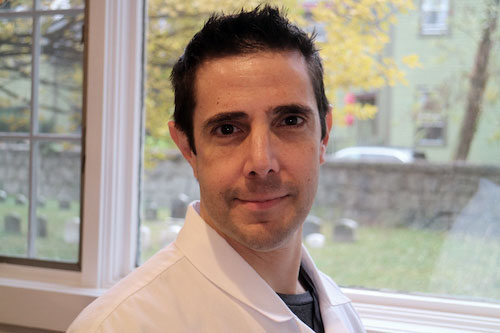 Dr. Casiglia attended the University of Florida where he received BS and BA degrees. He studied at the University of Pennsylvania School of Dental Medicine, and subsequently completed a Doctor of Medical Science as well as a five-year residency in Oral Medicine at the Harvard School of Dental Medicine. Dr. Casiglia has practiced for two decades in Massachusetts.
He enjoys the wide range of procedures that comprise general practice dentistry, and the ability to provide almost all treatments that a patient might need within one office. Physicians and dentists alike refer difficult diagnostic cases of mucosal disease, temporomandibular problems, infectious disease, or neurological pain to Dr. Casiglia when they need additional expertise. Dr. Casiglia is one of only of perhaps two dozen American doctors who is a Fellow in the Royal College of Surgeons, Edinburgh.
Dr. Casiglia is a member of the following organizations:
Dr. Casiglia is deeply committed to education - both his own and that of others. Beginning in high school, he has always been involved in teaching others. He currently teaches at several different levels (from dental students to senior residents) at the Harvard School of Dental Medicine and Brigham and Women's Hospital. He also provides continuing education lectures to dental and medical professionals in New England and across the country on subjects such as pharmacology, oral cancer, HIV disease, medical conditions, and facial pain. He is a Director and examiner for the American Board of Oral Medicine. He has even mentored patients into dentists!
Dr. Casiglia has also been involved in numerous clinical and laboratory research studies. He has published articles in national dental and medical journals (and reviews those of others for publication), authored articles for online medical reference, written book chapters, and served as editor of books.
His dedication to education is also evident in his approach to patient care. First and foremost, he will make sure that you as a patient completely understand the rationale for the proposed treatment, the risks and benefits of treatment, and what specifically is involved in the procedure. He will also make you aware of any alternative treatment options you may have. Dr. Casiglia will then provide the treatment upon which you agree in a compassionate manner with the utmost attention to your comfort and the best possible results.
When not at the practice, Dr. Casiglia spends most of his time sharpening his instruments for the next patient (or honing his dry sense of humor). He enjoys a dizzying array of music, exercise, building restoration, Scotch whisky, and foreign languages. He also serves on boards of non-profits in the community.
Get To Know Dr. Casiglia And The Rest Of The Essex Dental Medicine Team
Dr. Casiglia looks forward to providing you with the best dental care possible. Call us today to schedule an appointment!